Friction Welding
History
Friction Welding is a method of welding that makes use of heat caused through relative motion in upset processing between one moving material and another stationary material, and fuse the two materials. 
The study of this method started in Russia, America and Japan around 1960, and the first welding machine for practical use was released in 1963.  It was realized the mechanization and automatization of welding operation, and then has greatly contributed to saving costs by its own quality progress and the low power. 
We immediately focused on the merits of this technology, and installed the 1st machine in 1975.  Since the first installation, we have made use of the technology for our production and that enable us to help our customer's cost saving and quality progress.  Now, our factories are equipped with 5 automatic friction welding machines.
See the process on movie
Advantage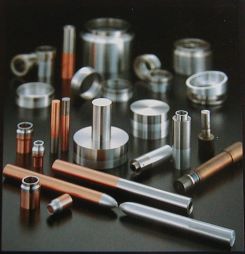 High material strength of the connection
No need for welding fillers, solvent, or special groove machining
High energy efficiency
Joining different metals
Saving amount of material, or simplify the process
Reducing process time
High reliability by automatized process